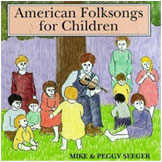 Animal Folksongs for Children - and Other People with Penny, Barbara, & Peggy Seeger et al. 2-CD set $25
Rounder, 1992
Children and grandchildren of Ruth Crawford Seeger sing all forty three songs from her animal folksongs book, plus an extra fifteen, in a rich variety of voices, instruments, and sounds. Notable Children's Recording, American Library Association. Good listening for adults as well.
Disc 1
Raccoon and Possum
Mister Rabbit
Peep Squirrel
A Squirrel is a Pretty Thing
Cross-eyed Gopher
Muskrat
Old Ground Hog
Snake Baked a Hoecake
Mole in the Ground
Little Dog Named Right
Little Lap Dog Lullabye
Little Brown Dog
Oh, Blue
Old Fox
The Deer Song
And We Hunted and We Hunted
The Gray Goose
Old Lady Goose
The Old Hen Cackled and the Rooster Laid the Egg
My Old Hen's A Good Old Hen
Turkey Song
Shake that Little Foot, Dinah-O
There was an old Frog
Little Pig
The Old Sow
The Little Black Bull
The Old Cow Died
Black Sheep, Black Sheep
The Big Sheep
Disc 2
Old Bell'd Yoe
The Kicking Mule
Whoa Mule! Can't Get the Saddle On
Hop up, My Ladies
Stewball
Riding Round The Cattle
Crocodile Song
Go on, Old 'Gator
Of All The Beast-es
Go to Sleep
Jack, Can I Ride?
Daddy Shot A Bear
Wolves A-Howling
Song of The Doodlebug
Little Birdie
The Sea Fowl
Old Bangum
The Swapping Song
Great Big Dog
Saw a Sow
Turkey in the Straw
Once I Had An Old Gray Mare
Little Rooster
Who Killed Poor Robin?
Lost Gander
The Leatherwing Bat
Jane, Jane
Old Bell Cow
Animal Song
Overseas shipping surcharge: $5
If ordering by mail, please make check or money order payable to Mike's Music, and make sure to include your shipping address and list of items and quantities.
Mail to:
Mike's Music
PO Box 1592
Lexington, VA 24450