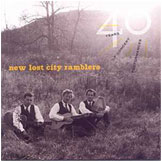 40 Years of Concert Recordings
2-CD set $20
Rounder Records, 2001
48 tracks, 16 of them previously unreleased. The songs and tunes are interspersed with commentary by the band, giving a lively sense of the Ramblers on stage.
Disc 1
Soldier's Joy
Down in the Willow
Brown's Ferry Blues
Too Tight Rag
Little Birdie
Darling Corey
The Democratic Donkey (Is In His Stall Again)
Poor Ellen Smith
On Some Foggy Mountain Top
Cackling Hen
The Battleship of Maine
Worried Man Blues
The Unquiet Grave
Lady of Carlisle
Groundhog
Orange Blossom Special
East Virginia Blues
Country Blues
Little Maggie
The Little Girl and the Dreadful Snake
Keep Moving
Fortune
She Tickles Me
The Arkansas Traveller
Saddle Up the Grey
Disc 2
Sally Goodin
The Old Bell Cow
It's Hard to Leave You, Sweet Love
Dark Holler Blues
Locks and Bolts
Wildwood Weed
Milk 'Em in the Evening Blues
Madeline
Sourwood Mountain
Black Bottom Strut
Jordan Is a Hard Road to Travel
The Old Man at the Mill
Tom Sherman's Barroom
Turkey in the Straw (intro.)
Turkey in the Straw
Old Joe Clark
Rabbit Chase
Poor Old Dirt Farmer
Tennessee Blues
Gonna Lay Down My Old Guitar
I've Always Been a Rambler
Baltimore Fire
Three Men Went A-Hunting
Overseas shipping surcharge: $5
If ordering by mail, please make check or money order payable to Mike's Music, and make sure to include your shipping address and list of items and quantities.
Mail to:
Mike's Music
PO Box 1592
Lexington, VA 24450