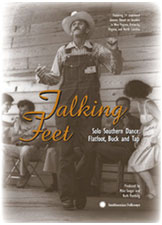 Talking Feet – Solo Southern Dance: Flatfoot, Buck and Tap
81-minute DVD $20
Smithsonian Folkways, 1984/2006
The first documentary about flatfoot, buck, hoedown, and rural tap dancing, the styles of solo Southern dancing which are a companion to traditional old-time music. Dances are done to hand-patting, talking blues, and singing, as well as old-time, bluegrass, and western swing-style music. Dancers range in age from 20 to 82. Featuring 24 traditional dancers filmed on location in WV, KY,VA, & NC.
Overseas shipping surcharge: $5
If ordering by mail, please make check or money order payable to Mike's Music, and make sure to include your shipping address and list of items and quantities.
Mail to:
Mike's Music
PO Box 1592
Lexington, VA 24450