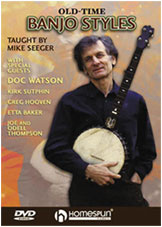 Old-time Banjo Styles with demonstrations and performances by Etta Baker, Greg Hooven, Kirk Sutphin, Joe & Odell Thompson, & Doc Watson, as well as by Mike Seeger
90-minute DVD. $30
Homespun Tapes, 1994
Instruction in two- and three-finger picking, up-picking, clawhammer, and other dominant old-time banjo techniques, in a variety of tunings and regional styles. Eighteen songs and instrumentals are taught, including Molly Dear, Snowdrop, French Waltz, Reuben's Train, Tom Dooley, John Brown's Dream, Backstep Cindy, Old Corn Likker, Marching Jaybird, Soldier's Joy, Needlecase, Baptist Shout, and White House Blues.
Overseas shipping surcharge: $5
If ordering by mail, please make check or money order payable to Mike's Music, and make sure to include your shipping address and list of items and quantities.
Mail to:
Mike's Music
PO Box 1592
Lexington, VA 24450